Need to add the finishing touch to your bridal look? The right bridal hair accessory can beautifully compliment both your wedding hairstyle and your dress. Take a look at our ultimate guide to wedding hair accessories…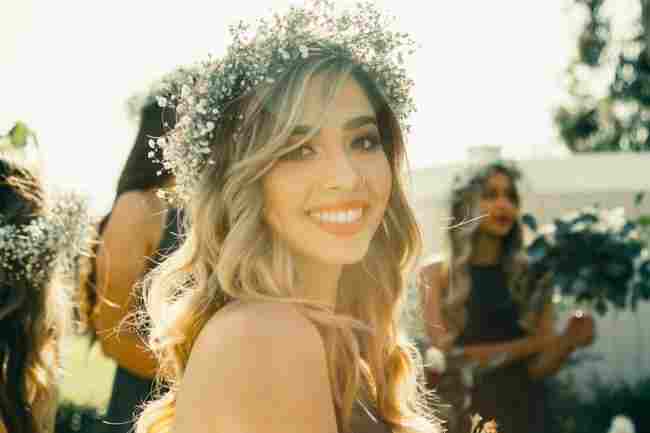 Wedding Hair Accessories: Your Guide to Bridal Hair Accessory Ideas
When thinking about how to choose you your wedding hair accessories, you'll want to think about the wedding hair trends, the style of your wedding dress and what wedding hairstyles you're considering.
Some brides may choose to go go with a long veil or a glitzy tiara, while other boho brides planning a festival-themed wedding may want to rock a flower crown on their big day.
If you're struggling to choose your wedding hair accessories and bridal jewellery, Anna Hartshorn from Sweetheart Vintage Designs, has provided us with her expert tips and advice on finding the perfect finishing touches to your bridal look…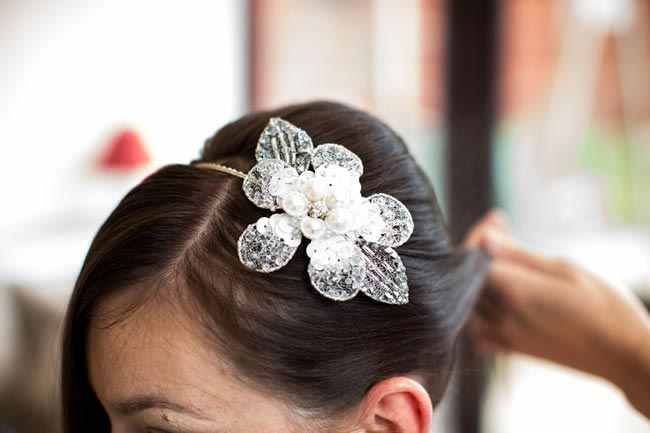 When should I start looking for my bridal hair accessories?
It's best to choose your wedding dress before you begin choosing your bridal accessories, so you can make sure they co-ordinate.
This doesn't stop you looking, in the meantime, to find out what companies sell the style of accessories you like.
If you get the opportunity, try on as many different hair accessories as you can because they tend to look very different in the hair.
You may end up falling in love with something that didn't catch your eye to begin with.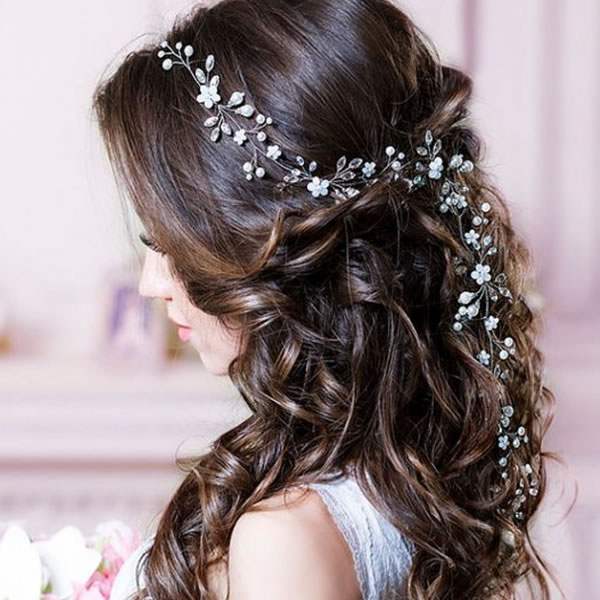 How do I choose between different types of wedding hair accessories?
You might want to choose your wedding hair accessory after you've decided on your bridal hairstyle so you know which kind to get, or you may prefer to pick a hairstyle based around your chosen hair accessory. The choice is up to you – but here's some inspiration of popular wedding hair accessories…
Bridal Headbands
Bridal headbands are very versatile and can be worn as an alternative to a tiara as they can be worn with the hair down, half up half down or all up.
You can ask to have the band wrapped with a ribbon that matches your hair colour if you want it to blend in, or pearls and crystals if you want it to stand out. Side headbands are particularly on-trend right now.
Side headbands are incredibly versatile, and can be worn easily with any hairstyle, long or short. They flatter most bridal styles effortlessly and have been a modern alternative to tiaras over the last few years.
A good rule of thumb is to place the headband on the side of the head opposite any dress detailing, such as one shoulder dresses, to harmonise the look.
Look for sparkly version for glamorous themes, or pearly examples if you're going more vintage.
Bridal Hair Combs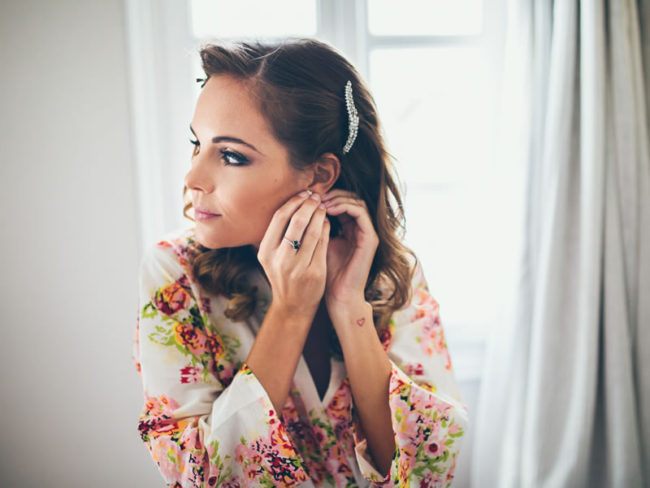 Bridal hair combs vary in size and shape, and are usually better if at least some of the hair is up.
If you are wearing a veil this could be kept on a separate simple comb that can be removed after the ceremony while the decorative comb is left in.
The bridal comb can slide comfortably into hair with minimal fuss and can be worn at the front, side or back making it a popular choice for modern brides.
Bridal hair combs look best being worn in a partial updo, and especially low chignons. Add a birdcage veil to complement a vintage theme.
Bridal Hair Vines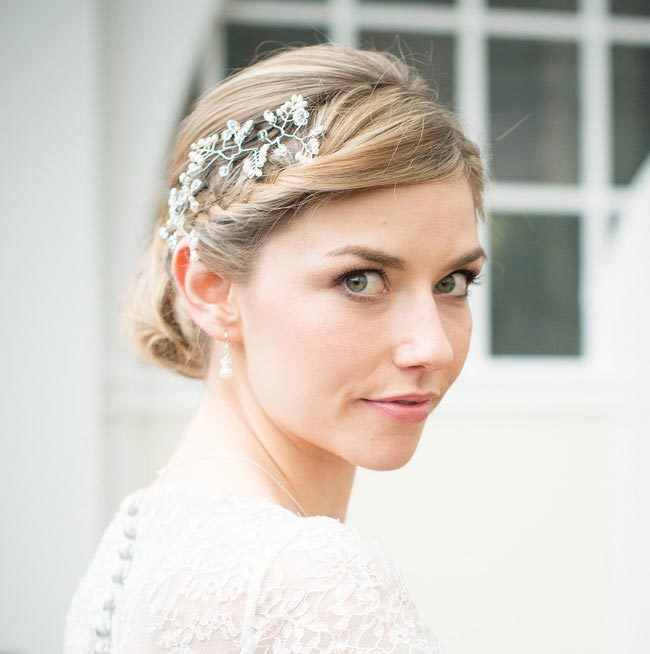 Bridal hair vines are multiple hair combs (usually three), that link together across your head. They look great both at the back of you head or above your face like a mini tiara.
Bridal vines are versatile pieces that can be worn as headbands strewn along the back of an up do or threaded throughout a bridal braid.
Because the hair vine is made with flexible wire and finished with small loops, it can be worn anywhere in the hair fixed with bobby pins. It can be as dramatic or as subtle as the look requires.
Bridal hair vines look particularly good intertwined into braided hair for a romantic touch. The must-have finishing touch for a boho bride or someone having flowers are their theme
Bridal Tiaras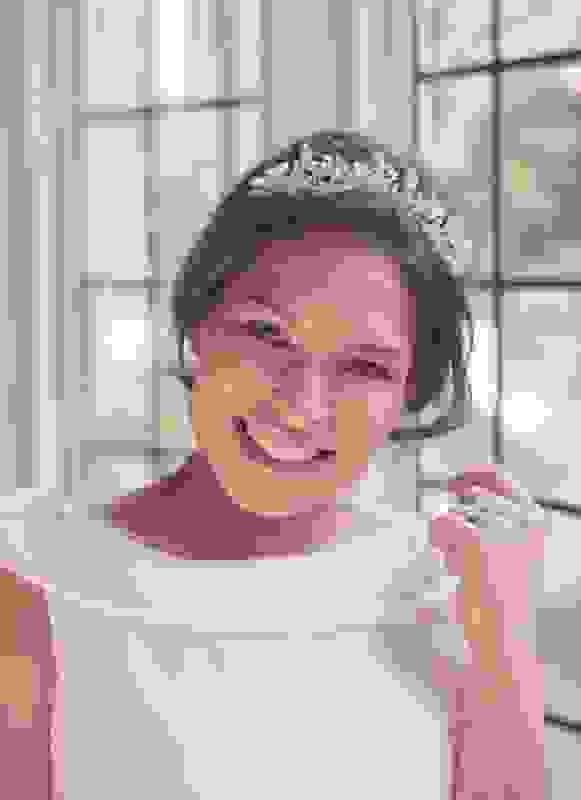 With a bridal tiara, all of the focus is on the front of your head but again they are versatile in the fact that you can have them with your hair in any style.
Tiaras are perfect for creating height, can be easily worn with a veil and provide instant dramatic effect. If you're planning a traditional wedding day and want to feel like a real-life princess , you can't go wrong with a tiara.
A classic, more traditional look with hair being worn up, or part up to frame the face. It's the perfect finishing touch for a princess-style day – think Kate Middleton!
Bridal Headpieces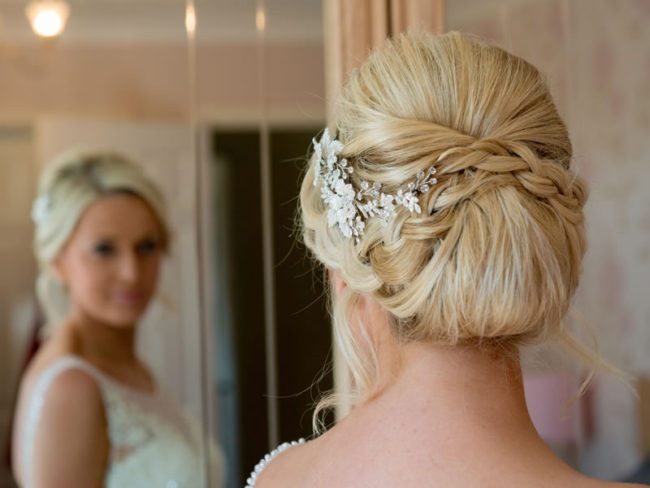 A bridal headpiece can be a combination of hair combs and crowns, headpieces are often one-of-a-kind shapes that can sit in a range of locations on your head as an alternative to a tiara.
Bridal Hair Pins
Bridal hair pins are more understated and can be worn towards the back of the head, especially if you choose prominent jewellery.
For a subtle yet classic look, add a few statement hair pins to your bridal up do. They can be interspersed into a bun, chignon or Grecian-style plait for some subtle sparkle.
Bridal hair pins are ideal for an understated look, or can be clustered to create something more dramatic.
Hair pins look best in up dos like buns or a chignon at the back of the hair for added detail, and subtly complements heavily beaded or detailed dresses. Hair pins are also cheap so great for adding subtle detail if you're on a small budget.
Bridal Hair Slides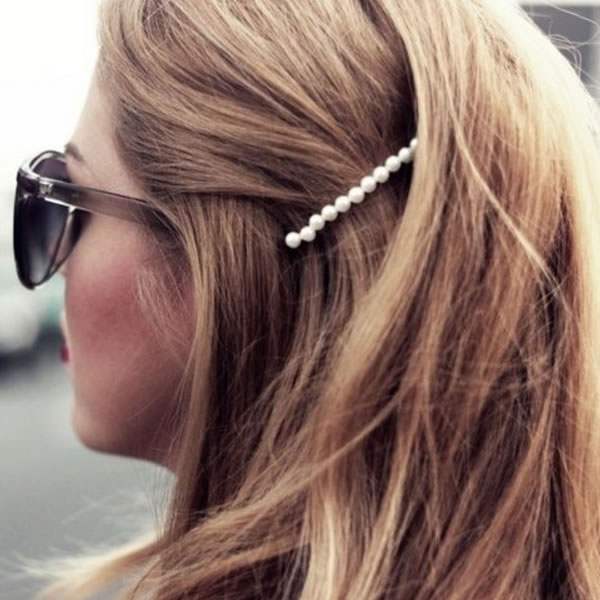 Bridal hair slides are the perfect wedding hair accessory if you're wearing your hair down. You can sweep your hair back on one side and pin it in place with a gorgeous hair slide to add a touch of glamour.
Brides wearing up dos could add a hair slide where their hair is tied up for a sparkly finishing touch.
Wedding Veils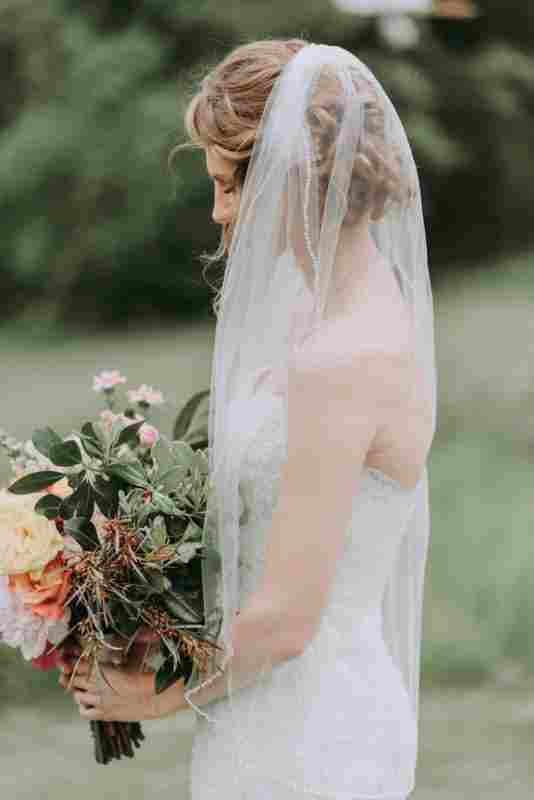 Wedding veils are the most traditional and treasured of wedding hair accessories and should be the finishing touch to any classic bridal look.
A traditional veil is usually placed close to the forehead and flows elegantly around your head and upper body, sometimes extending into a long train.
Wedding veil suits any hairstyle, whether you have you opt for an up do, half up half down style or leave your locks flowing.
Vintage Hair Accessories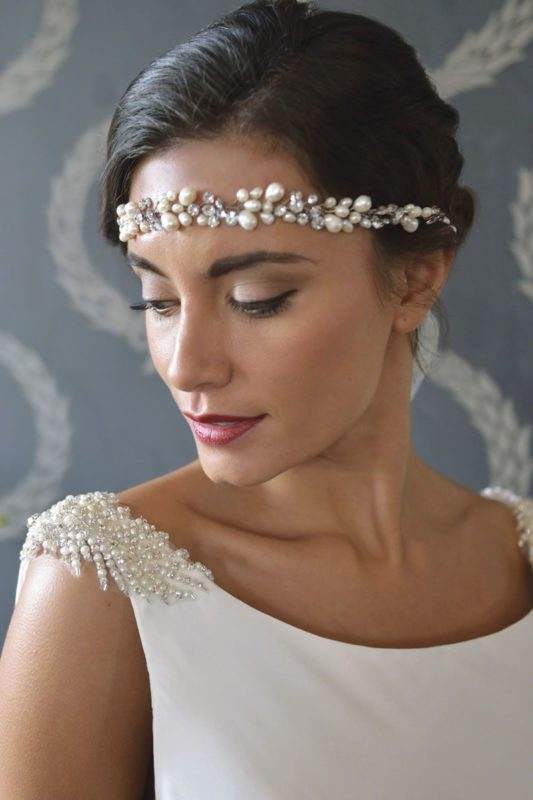 Whether you're planning a vintage inspired wedding or just want to incorporate a hint of a vintage or Great Gatsby theme into your bridal look, wearing a vintage hair accessory will give your look a timeless feel.
Glitzy 1920s style headbands and hair slides are great for a vintage inspired bridal look and add feathers to your hair for another nod to the Great Gatsby trend.
If you love this retro look, try working Juliet cap veils, crystals and beading and brooch bouquets into your day. For a super-glamorous look you could even add long, elbow-length gloves for the evening party.
Floral Hair Accessories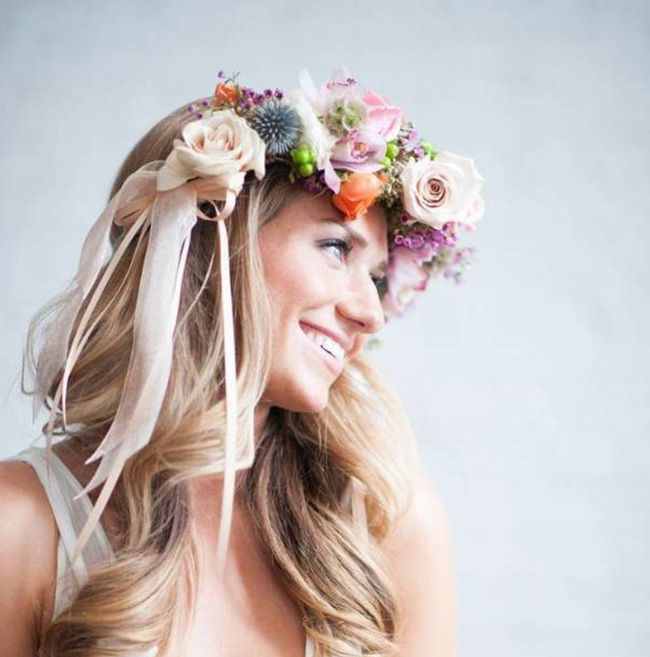 Nothing says quintessential British Summer or a festival-themed wedding more than flower hair crowns and floral hair accessories.
But floral hair accessories can also be worked into all seasons – from Spring through to Autumn and Winter too, depending on the size, colour and type of floral hair accessory.
And you don't have to go all-out with a flower crown – pinning a floral accessory in your hair can create a simple yet pretty statement and overall romantic bridal look.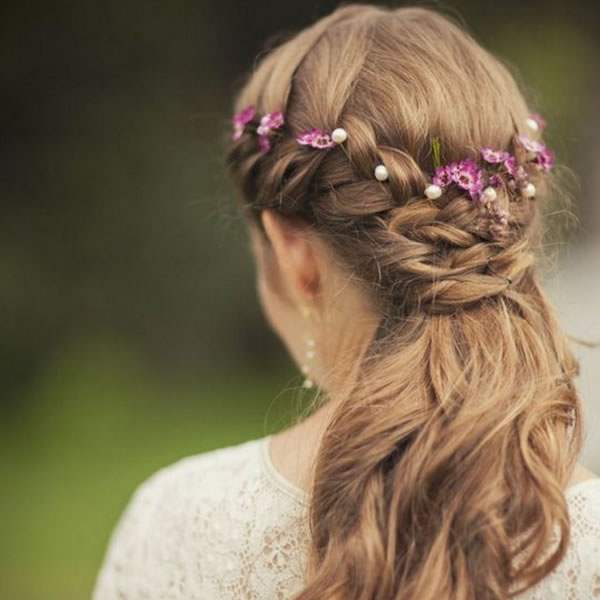 What about wedding hair accessories for bridesmaids?
Some brides like to choose hair accessories for their bridesmaids that coordinate with their own, such as a hair comb that matches the bride's headband or flowers in the hair that match the bridal bouquet.
Some of my brides have chosen different hair combs for each of their bridesmaids, so don't feel as if you have to conform to having all their accessories matching. If they choose something they really like, they are likely to wear it again after the wedding.
Bridal Hair Accessory Trends for 2019
Pretty as a Posy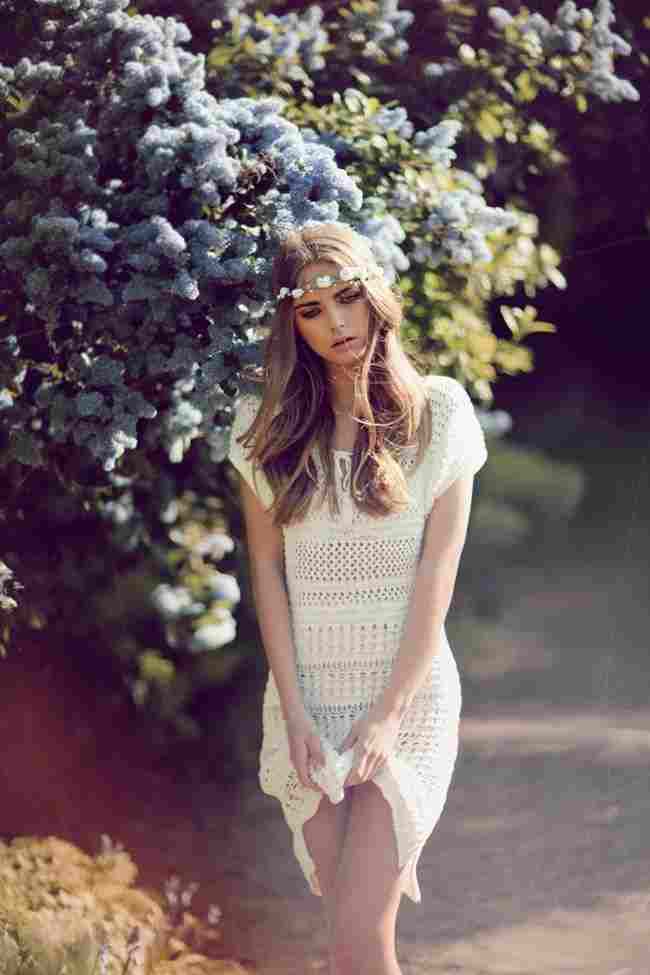 This summer, real flower hair garlands a la the Swinging Sixties are going to be hugely popular.
Give the retro favourite a chic and contemporary update like my beautiful model by choosing white or cream flowers and opt for simple, individual roses or peonies. Team with natural curls and a middle parting.
If florals don't float your boat, why not try a hair cascade instead? Swapping flowers for beads, this garland-meets-crown look works well with long or short hair and will complement a vintage wedding dress perfectly.
Vintage Glamour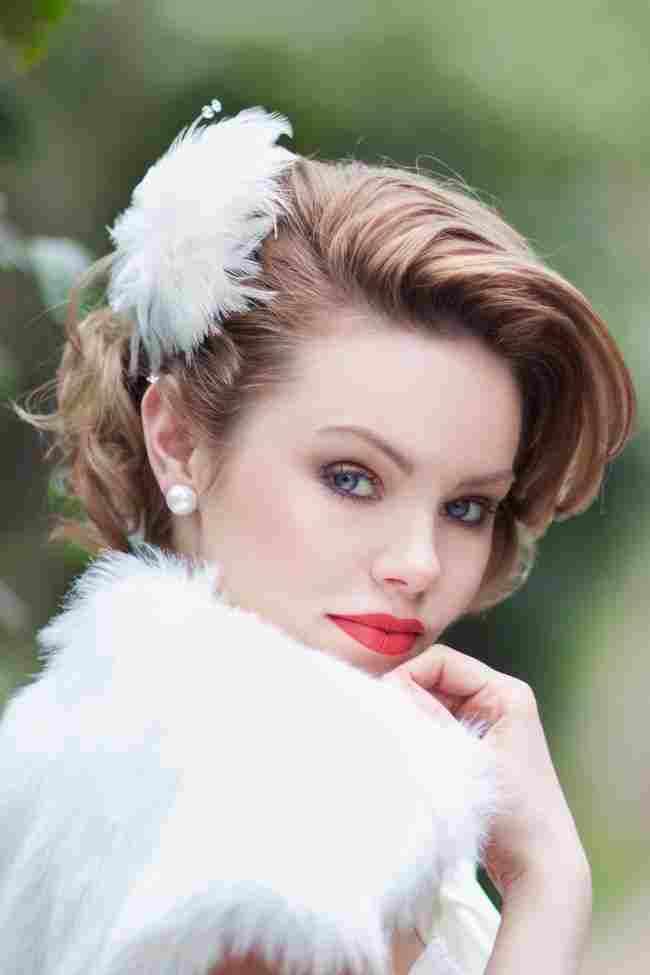 There's a real trend for Gatsby-inspired hair accessories this year and with a few tweaks it's easy to inject a little Daisy Buchanan into your look.
Feathers work well for short-haired brides and can help to create volume and character.
If feathers aren't your thing a lot of my brides have been opting for statement side headpieces adorned with crystals and beads.
Make like our model above and wear your hair up with an elaborate clip worn to the side – it will help keep flyaways in place too!
Crowning Glory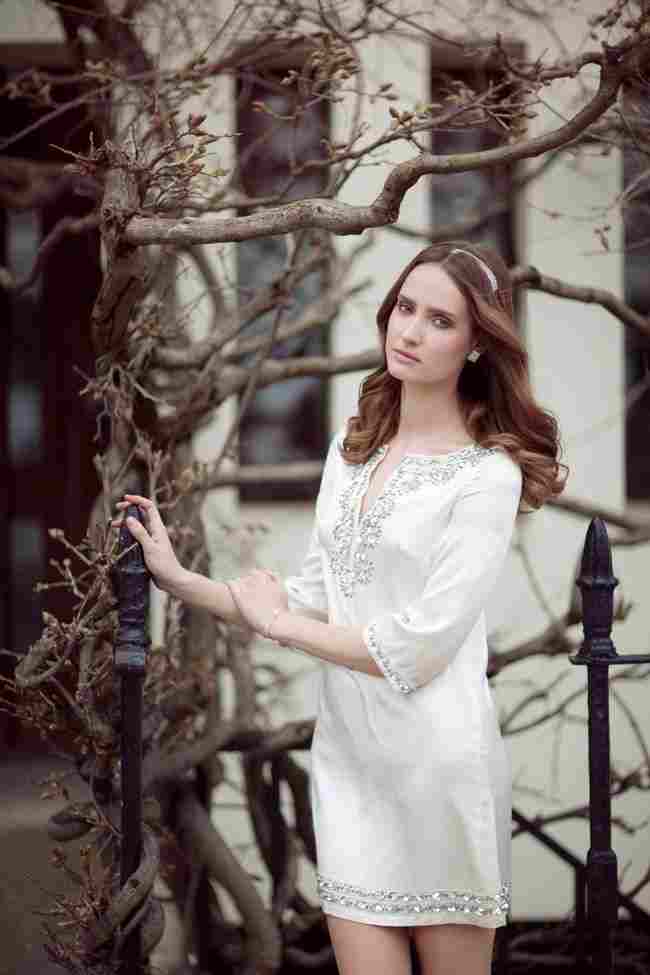 Every bride should feel like a princess on her special day – and every princess should wear a crown!
Whether your wedding dress is worthy of a Disney film or sleek and slimline, a mini tiara could be the perfect finishing touch and will exude femininity.
A dainty tiara looks great with a half-up, half-down hairstyle and should be nestled under layers of hair to give a really effortless edge.
Alternatively choose an embellished headband and wear it high on your head to create volume and drama.
Veiled Beauty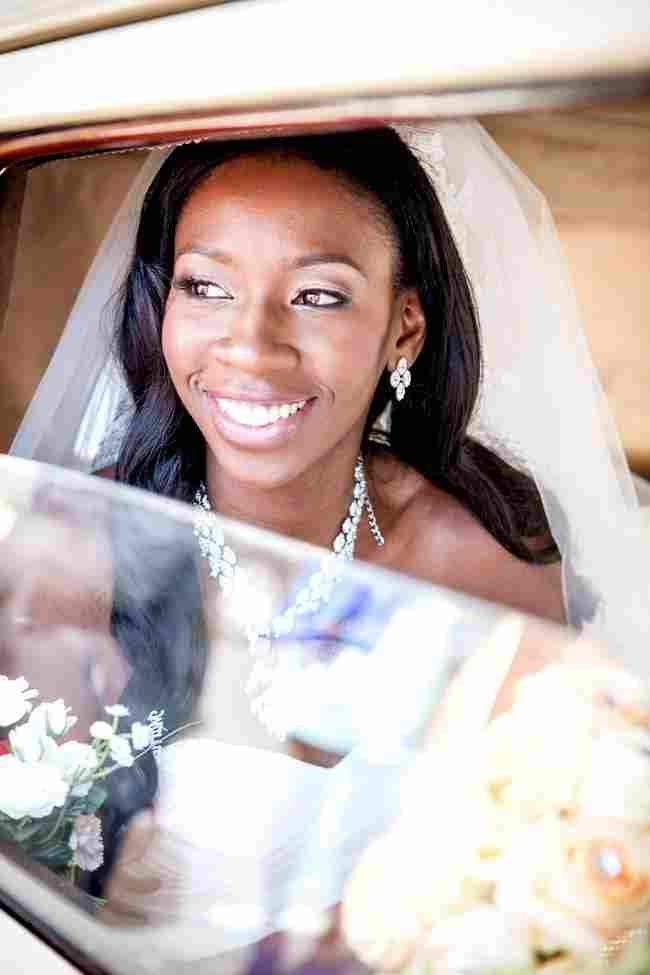 Last but not least – and an essential for the traditional bride – a veil can make or break your hairstyle come the big day.
This season many of my brides have chosen a veil for their wedding day but there's a definite lean towards more minimalist styles – think thin veil headbands and clips with layers of voile attached.
The gorgeous real bride above wears her hair long and wavy – let it cascade forward over your shoulders and push a delicate veil headband up high, allowing the train of fabric to surround you without overpowering your look.
READ MORE:
---
Want more wedding information and inspiration? Just hit 'Like' on our Wedding Ideas Facebook page, and 'Follow' on our @wimagazine Twitter account to join in the conversation.