With guests prowling to see what everyone is wearing, the mother of the bride must ensure that her outfit is stylish and classy for her daughter's weddings.
Being mother of the bride and chief of the bridal party, we understand that you'll want to highlight your role with the right look (and not look like just another wedding guest) so we've compiled a guide to the best mother of the bride outfits for 2020.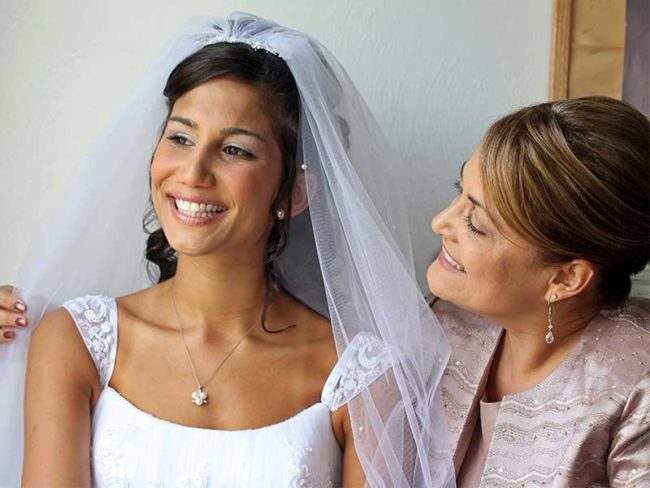 Mother of the Bride Outfits for 2020: Top Trends and Where to Buy Them
Mother of the Bride Jumpsuits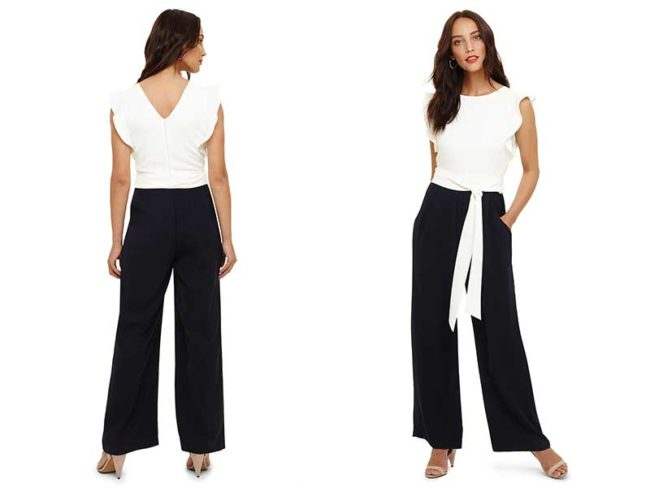 Featuring statement frilled sleeves and a flattering waist tie, this smart jumpsuit is a contemporary alternative to occasion dresses.
Fastened with a concealed centre back zip and available in a range of colours.
---
Phase Eight Katy Lace Jumpsuit, £160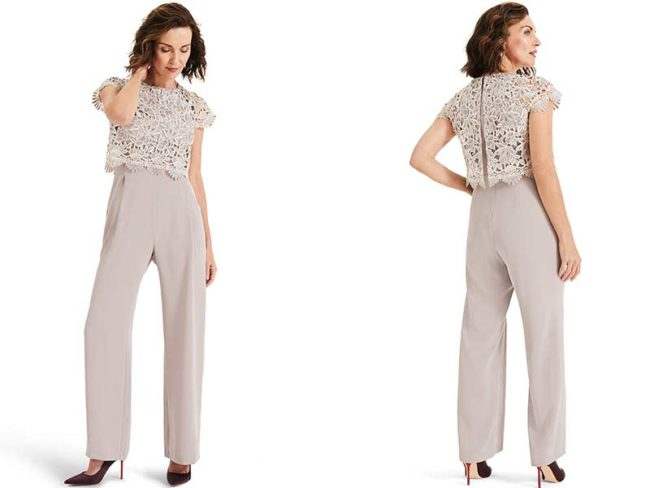 A modern and elegant occasion look, this jumpsuit is designed with a layered bodice in delicate lace, plus flattering cap sleeves and a round neckline.
Finish with a complementing fascinator or hat for the perfect classy mother of the bride outfit.
---
Mother of the Bride Dresses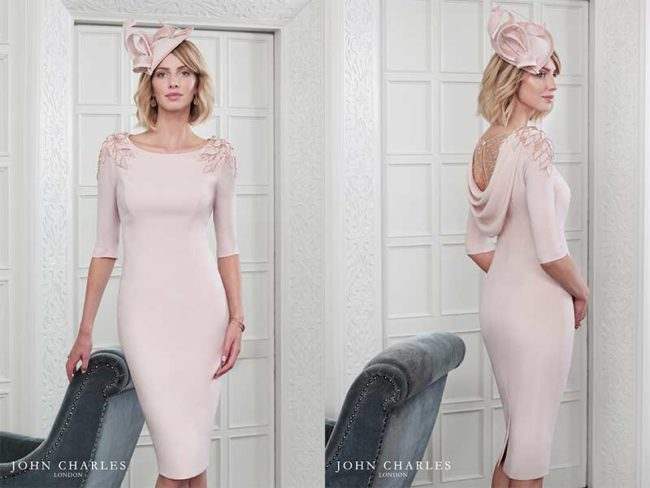 In immaculate crepe, this mother of the bride dress style is all about the back detail.
Featuring a low cowl back in crepe over a beaded illusion detail, the finish look is divine. Beautifully beaded leaf shapes adorn the shoulders, before flowing into the fitted shape. A perfect statement. Shown in Blush, but also available in Ivory and Lavender.
---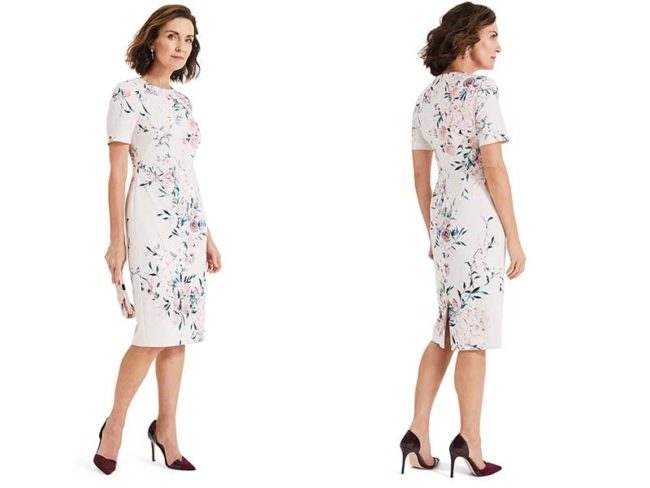 A stylishly simple occasion dress printed with romantic florals, perfect for the mother of the bride.
This style is finished with short sleeves and a below the knee hem, and has a concealed centre back zip fastening.
---

This mother of the bride outfit channels pure femininity. Clean beaded lines, shaping the waist and cap sleeves of this crepe design, make this a timeless and elegant mother of the bride dress.
The bodice features a subtle diamond-beading feature, enhanced by elegant crystals. Available with coordinated crop jacket. Make simplicity your statement in this elegant design.
Shown in Blush, but also available in Ivory, Lavender, Mint, Silver, Taupe.
---
Mother of the Bride Outfit Guide
When it comes to wedding fashion, the iconic mother of the bride outfit is something that every woman wants to get right particularly with the pressure of ever-lasting wedding photos.
In years gone by, being mother of the bride has meant frumpy frocks and ill-fitting dress suits, but no more!
With many modern mums keeping on top of fashion trends, lots of high street retailers and even wedding designers are now catering for fashionable mother of the bride big-day looks.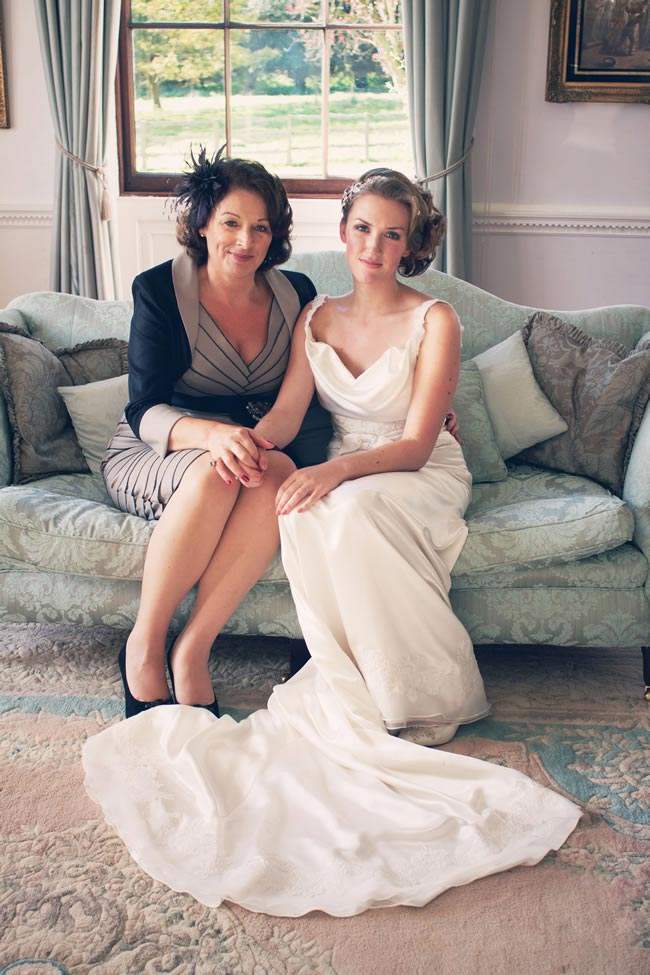 Recently our research revealed that woman believe they hit their style peak once they've reached their fifties and, therefore, there is no reason not to look and feel fabulous when playing the important role of MOB.
To help provide some guidance for future MOB's on how they can stand out from the crowd and wow those wedding guests, Kirsten Emery, Head of Design at leading fashion e-tailer Kaleidoscope shares her top tips for mother of the brides this wedding season…
Modern Mother of the Bride Style Tips
Flatter your figure 
Today's mother of the bride collections consist of figure-flattering frocks that are designed to accentuate your mum's best bits.
Is your mum worried about showing her upper arms on the big day? Look for cinched-in jackets that will not only hide her wobbly bits, but also help her change her look from day to night.
Pair with some sexy shoes and some matching accessories and you'll have a confident mum that will look picture perfect.
A good figure flattering tip is to choose a dress style with a ribbon tied or belted waist which will cinch you in and accentuate the narrowest part of your frame.
Also, remember that sophistication is key, so keep your outfit demure by avoiding any ensembles that are too low cut or have a short hem.
Many women are concerned about exposing their upper arms. Experimenting with three quarter length sleeves, cover-ups and looking for cinched in jackets will keep you feeling confident and can help add some variety to your look.
Let the bride be your guide 
Another important tip for dressing for your daughter's big day is to let her bridal style guide you. Before you start your outfit search make sure you are aware of the colour palettes for the day, flower arrangement ideas, how formal the occasion is going to be, and what the bridesmaids will be wearing.
As Mother of the Bride, you may want to find a look which complements these elements, without being matchy-matchy. For instance, if the bridal party are wearing soft duck egg blue, select a subtle mocha or grey which you can team with duck egg blue accessories without looking too try-hard.
It's important you still find something you feel confident wearing and that reflects your own individual style.
Aside from this, the classic golden rule for keeping the bride happy, unless otherwise instructed, is to never wear white or any colour close to what the bride has chosen to wear – that hue is for the bride and the bride only!
Be inspired by celebrity mother of the bride outfits 
Although of course your bride is your guide, there is no reason you cannot take inspiration from most stylish MOB's from the celebrity world.
Carol Middleton and Judi Murray are great examples of how to perfect the structured look; a well-fitted coat over a shift dress can add an extra twist to your outfit, and keep you warm during the winter wedding season!
Although Carol and Judi have stuck with simple outfits, they have let their hats do the talking. This can be an elegant way of ensuring you stand out as MOB without going too over the top.
If you're keen to experiment with colour and design, take inspiration from Hillary Clinton. She shows that a more flamboyant number can still look classy, with a bolero adding sophistication.
If you are choosing to go both bright and textured, stick to one colour palette, a la Hillary, to make sure you don't detract from the beautiful bride!
Think of an outfit to last from day to night 
Weddings are notorious for being very long days so make sure whatever you are wearing is comfortable enough so that it doesn't distract you from enjoying your daughter's big day!
Opt for non-creasing, moveable fabrics such as scuba or lace, teamed with stylish but practical shoes for that added touch of glamour.
If the wedding moves throughout the day into the evening also ensure that you have a wrap/pashmina on hand to keep you warm. Go for a colour that complements or adds drama to your dress or accessories.
The most important thing to remember is that many eyes will be on you for your daughter's big day so ensure that you are confident, happy and comfortable in your attire, with plenty of movement in your dress so that you are free to dance the night away!
Remember that the most important thing is to feel comfortable. The mother of the bride will be wearing the outfit for around 14 hours on the big day, so comfort is key to a happy, confident mother of the bride.
Mothers of the bride should dress glamorously but within their usual realms of style. If the you don't usually wear sky-high heels, for example, then best to avoid them at all costs.
It's a good idea to try shopping at the more unusual stores to avoid wearing something that another guest might have chosen.
Consider the wedding location
When first starting to plan your mother of the bride outfit, look to the wedding location itself for inspiration.
If you're attending a beach wedding or one in a warmer climate, go for minimum accessories and flowing fabrics, adopting a more relaxed style.
For a more formal occasion, take the opportunity to make a bold statement by wearing an eye-catching headpiece or fascinator. When choosing a headpiece accessory make sure you don't detract from your outfit as a whole, it should accentuate your look instead of dominating it.
It's important to ensure that any head pieces don't swamp your frame, and doesn't hide your face. Finally, make sure that you opt for a colour which complements your dress or matches the rest of your accessories. This will complete your outfit and bring it together as a whole.
Mother of the bride accessories
Think about jewellery, shoes and handbags – all things that can help make your mother of the bride outfit unique – use these as statement pieces, perhaps in a brighter colour than the rest of the outfit.
Should the mother of the bride wear a hat?
You would think it's customary for the mother of the bride to wear an over-sized hat, but that's simply not the case for 2020.
Many modern mums are opting to leave the traditional hats at home in favour of something a little smaller, such as a fascinator, statement flower in the hair or stunning hair accessories.
---
READ MORE: 
---
Want more wedding information and inspiration? Just hit 'Like' on our Wedding Ideas Facebook page, and 'Follow' on our @wimagazine Twitter account. To join in the conversation, share your stories here.