There are five different types of popular hair extensions. At The London Hair Lab we also offer seem-less clip ins as a temporary hair extension method.
• Flat Tip Hair aka micro bond method
• I-Tip Hair aka micro ring method
• Invisible Tape Hair (tape method)
• Weft Hair aka weaves (LA Weave method)
• Clip-in Pieces
The benefits of flat tip hair extensions (micro bonds)
Flat tip hair are bonds that are attached with a keratin resin and ideal for medium to fine hair types. Micro bonds are the most discreet method allowing you to apply in the smallest of areas. However, the hair isn't a reusable method, so if you decide you like your longer, fuller hair after your big day, you will need new hair every three months.
The pros and cons of micro ring hair extensions aka I-Tip hair
Along with micro bonds, micro rings are also considered a permanent method, lasting up to three months. However, micro rings are reusable, so are much more cost effective if you're on a budget and are the best option when it comes to quality hair for your wedding. On the other hand, it can be possible to lose a little bit of length (around half an inch) when you have the hair refit.
What about tape hair extensions? How do they work?
Invisible tape extensions involve two pieces of hair sandwiched together using medical A-grade tape. These are ideal for people with fine hair looking to add volume. Tape hair extensions are a great introduction for those who have never had extensions before and are considered to be a semi-permanent method, lasting between 6 and 8 weeks. It's unlikely tape hair extensions will damage your hair if they are fitted properly, however, you may lose a little bit of length when refitting.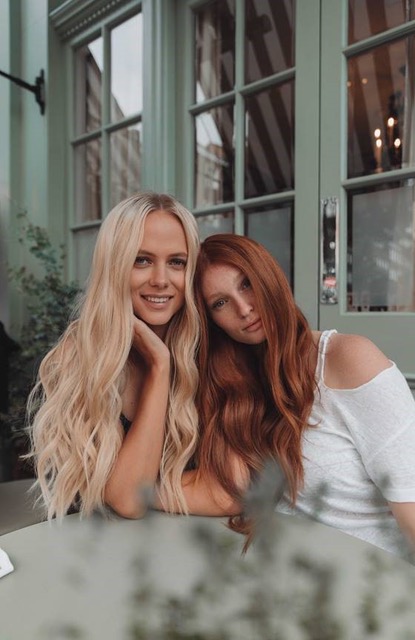 Clip-in hair extensions explained
Lastly the seem-less clip ins from The London Hair Lab at Vixen & Blush are suitable for most hair types. These are classed as a temporary method. To avoid any damage to your hair these should only be worn a maximum of three or four times a week and always removed before bed.
These are a great option if you want to add thickness and length for a one-off occasion, like a wedding. However, you have to rely on yourself or your hair stylist to fit them, and may need some friends to be on extension watch on the big day.
What would be the best hair extensions for your wedding day?
Depending on the bride-to-be, and the desired effect, all methods have their advantage and disadvantage, so we always recommend booking in for a consultation first.
Different methods suit different people, different preferences and hair types. It also depends on what style the bride wants to achieve on her wedding day.
For example, tape extensions are great for a Boho look, adding volume to hair-down styles, but they probably wouldn't work for sleek up-dos.
Additionally, if the bride wanted to maintain the extensions for a while after the wedding, or keep them in for the honeymoon, investing in good quality hair can make all the difference.
How to look after your hair extensions
Vixen & Blush always talk through maintenance and aftercare with each client and offer a detailed aftercare leaflet for everyone to take home and read through at their own leisure.
Simple things like using a soft-bristle brush, using a good quality salon branded volume shampoo and a hydrating conditioner will help keep your hair looking better for longer.
Always drying your hair at the root and not wearing your hair in a too-high bun or ponytail will also help, particularly for those who have opted for tape extensions.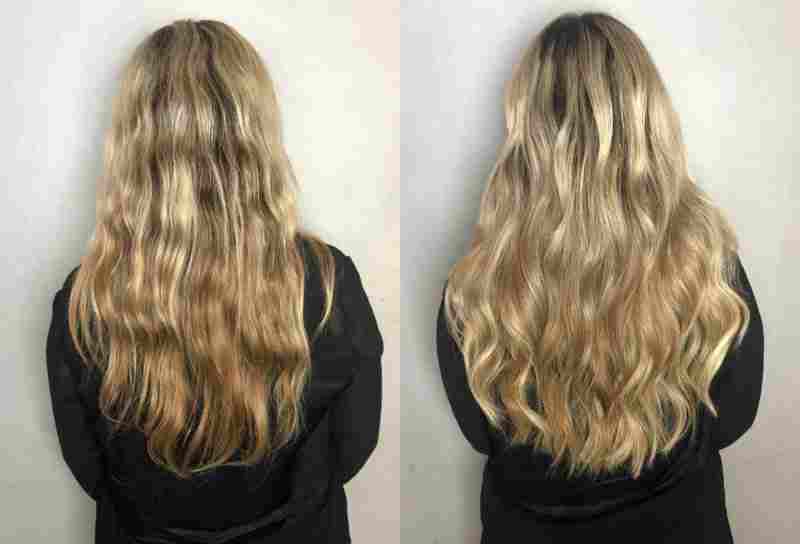 Wedding Ideas tried out the Invisible Tape hair extensions from Vixen & Blush, read all about our thoughts here.